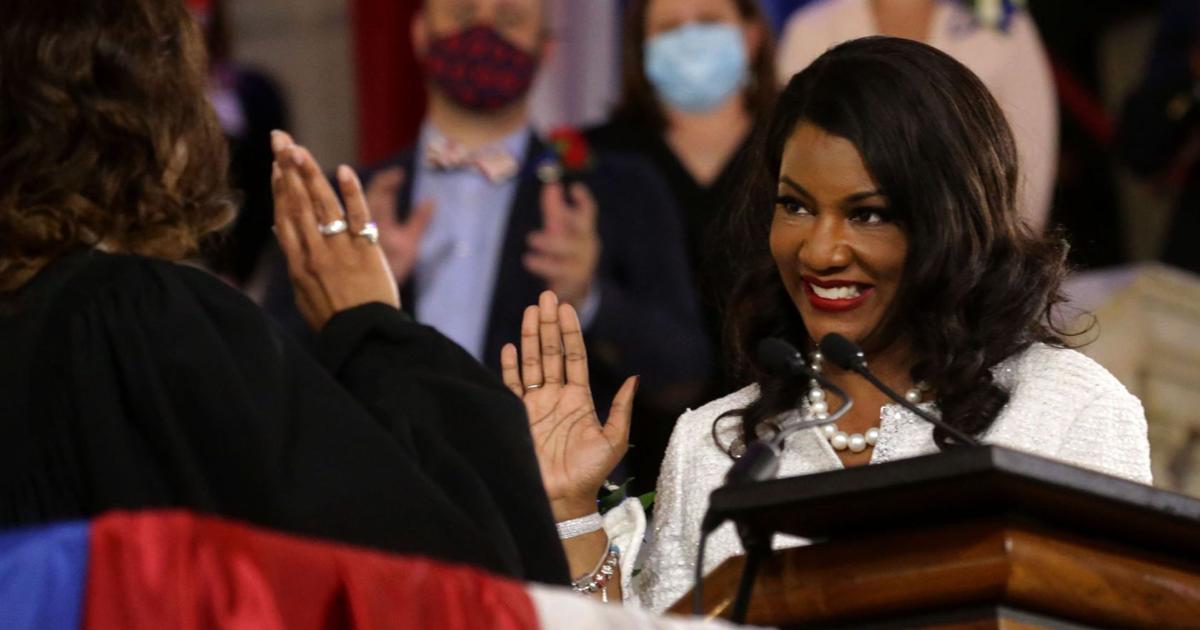 Unfinished business: Jones marks first year as St. Louis mayor | Politics
ST. LOUIS — Last April 20, Tishaura O. Jones took office as St. Louis' 47th mayor, promising in her inaugural speech to pursue reform and "progressive public policy."
In the year that's followed, Jones has taken steps to limit tax breaks for developers and, after some squabbling with aldermen, secured most of her initial proposals for spending more than $100 million in federal pandemic aid.
She also pushed to eliminate 98 long-vacant police officer positions, shifting the money to affordable housing and other programs, and talked of starting a "public conversation" about a slavery reparations effort here.
But Jones has backtracked on one key initiative. Last June, in one of her first major actions, she emptied the city's medium-security jail on Hall Street, commonly known as the workhouse and long criticized for substandard conditions.
A few weeks later, Jones reopened it on a limited basis because of repairs needed in part of the main jail downtown — the city Justice Center — because of damage spurred by the latest in a series of disturbances.
That move upset some progressive allies in the Close the Workhouse campaign. Some progressives also criticized her announcement last September that more police would be deployed downtown on weekends after months of shootings, street racing and other late-night rowdiness.
"She's become more establishment since she came into office," said Kenneth Warren, a professor of political science at St. Louis University.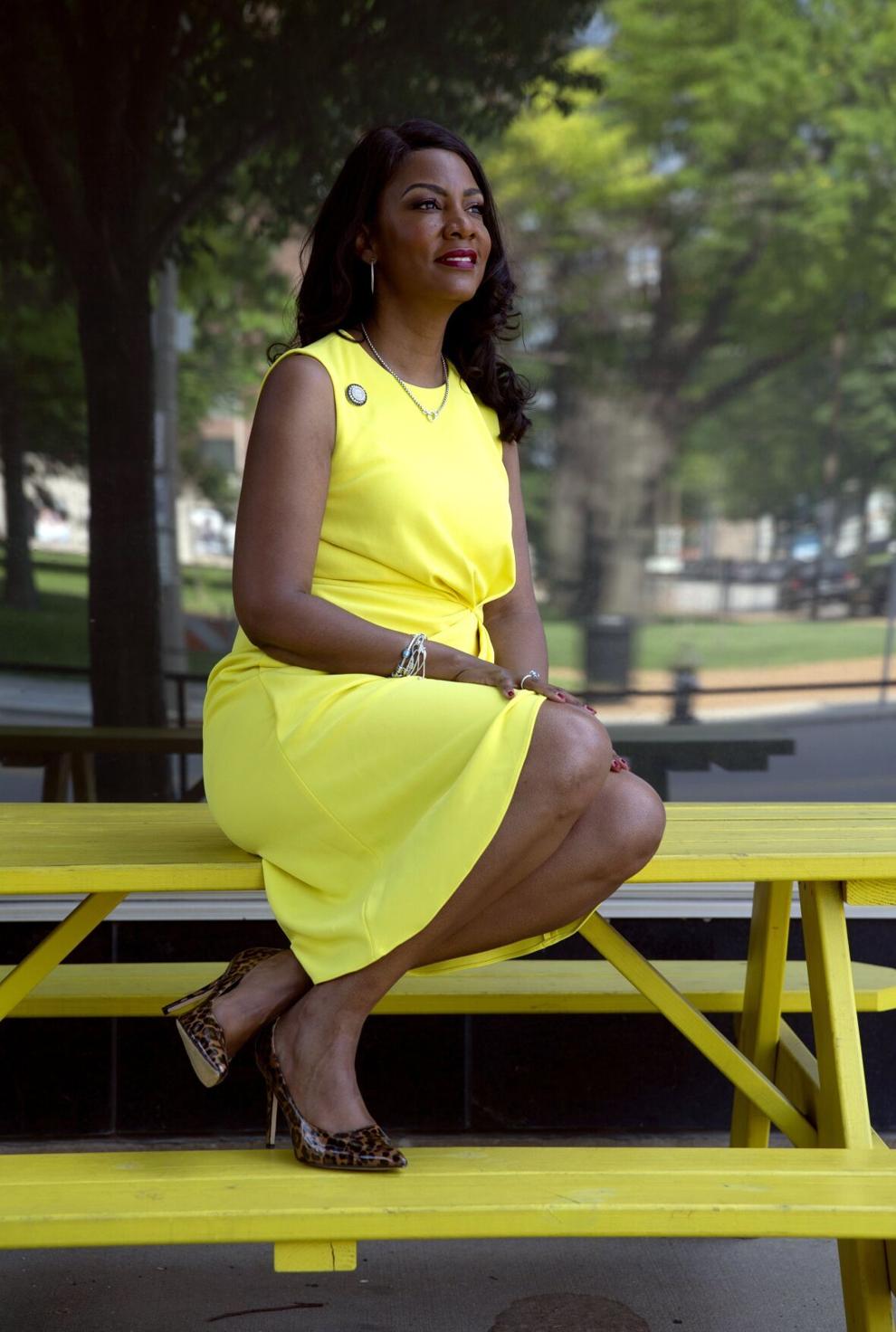 The Rev. Darryl Gray, a social justice activist involved in various protests in recent years, put it differently.
"It is one thing to campaign and another thing to govern," Gray said, adding that the damage to the main jail left Jones with no option but to return some detainees to the workhouse.
Jones, in emailed comments, said "I hear those concerns." She said she remains committed to closing the workhouse after the main jail is repaired and notes that her administration has begun soliciting community input on how to reuse the property.
Regarding downtown, she said data is driving police deployment strategies and notes that the city also is working with businesses and others to hold more public events aimed at making people feel safer.
She says it's part of her overall policy of "reimagining public safety in the long term" — which includes expanding a program to divert some 911 calls to mental health clinicians begun near the end of the term of her predecessor, Lyda Krewson.
Jones was unavailable for an interview late last week due to an illness but the mayor's office emailed her responses to questions submitted by the Post-Dispatch.
Jones said she regards a drop in criminal homicides last year in the city that bucked a national trend as her biggest accomplishment. Although the total number of homicides in 2021 fell about 24% compared to 2020, the rate still remained stubbornly high — nearly 68 homicides per 100,000 people.
Jones acknowledges the city has far more work to do "to make our neighborhoods safer."
She also cited the initial $135 million federal pandemic relief package passed last summer, which included $5 million to give $500 in direct aid to families in economic stress because of COVID.
"I hope this isn't the last time St. Louis tries something new and innovative," Jones said, referring to the direct aid program, of which $4.2 million had been paid out through last week.
An additional $109 million in American Rescue Plan Act allocations are up for final aldermanic passage on Monday.
Jones said the thing she likes most about being mayor is being able to set an example for children.
"Our kids can't be what they can't see," she said. "To be the first Black woman in this office sends a message to our kids — especially little Black girls — that anything is possible."
She also said she was proud of appointing what she said is "the most diverse cabinet in the history of the city."
Jones' office said of 39 people named by the mayor to head agencies and to other posts, 18 are Black, 17 white and two each with Hispanic and Asian backgrounds. There are 20 men, 18 women and one nonbinary person. The total includes some Krewson holdovers Jones has retained.
Meanwhile, Jones has struggled in her effort to significantly improve the city's chronic problem with delays in answering 911 calls.
Her administration's latest initiative, announced last month, calls for tapping police officers to work overtime answering 911 calls and to also use police cadets aged 18 to 20, too young to become officers. Other, longer-term moves also are planned.
Another nagging problem is a trash truck driver and mechanic shortage that has kept the city from making separate pickups of recyclables in most neighborhoods since last July.
"She's falling short in terms of neighborhood quality of life," said Alderman Tom Oldenburg, 16th Ward, referring to the 911 and trash issues.
Jones and her aides say they're working on both problems. The city has offered a bonus to try to spur more people to sign on as trash truck drivers and is reviewing its collection routes to evaluate how to improve efficiency.
The mayor also said "it's imperative that we remain competitive" in pay for the more than 1,000 job vacancies across city government, which include 911 dispatcher and refuse positions. But she has yet to say if she will recommend salary hikes.
Jones has had a mixed record with aldermen, sparring heatedly last year with Aldermanic President Lewis Reed and others over details of the initial pandemic aid package.
At one point she vetoed $33 million passed by the board to boost North Side commercial corridors in a dispute over federal rules on using American Rescue Plan Act funds.
After recent negotiations, Jones signed off on a revised $37 million version expected to gain final passage Monday.
Reed and others also have criticized the administration for the slow pace of spending the initial $135 million. Only about $3.4 million was paid out by Jan. 31; it was up to $6 million by the end of March.
Mayoral spokesman Nick Dunne said the city's procurement regulations and federal rules are part of the reason. He also said some programs are ongoing, with money meant to be spent gradually.
The administration also has had difficulty finding a place to open a supervised "intentional encampment" for homeless people who won't go to traditional shelters. Aldermen last year approved $2 million for that purpose but also barred camps from being located in 12 of the city's 28 wards.
On another point, the meetings and digital surveys conducted last spring by a pandemic aid committee Jones appointed irritated some aldermen such as the 27th Ward's Pam Boyd, who heads the aldermanic Black caucus.
"We don't have to have town halls," Boyd said of aldermen. "Our residents have been telling us what's needed."
Meanwhile, Aldermen Tina Pihl, 17th Ward, and Dan Guenther, 9th Ward, commended Jones for her tax incentive stance, which has resulted in some developers agreeing to channel money to affordable housing and neighborhood improvements.
Speaking more generally, Pihl added that "I don't remember equity being talked about so much" in city government, she said. "It has been a culture shift."
Jason Hall, CEO of Greater St. Louis Inc. — the region's leading business group — lauded Jones and her team for working with business officials on downtown public safety.
While all issues haven't been resolved, he said, "it clearly created confidence in the marketplace."
Les Sterman, who chairs a downtown group of businesses and residents, had a different view; he said things haven't improved and the focus has been on public relations so far.
Regarding tax incentive changes, which so far have been applied on a project-by-project basis, Hall acknowledged there is concern among developers as they wait more specifics on overall policy.
"Businesses like predictability," he said, adding that administration officials are working toward that.
Hall, meanwhile, said Jones has been "an excellent representative who sells the city well in the national domain" at meetings and conferences.
Jones' role as the first Black woman mayor seeking to change the normal way of operating in an older Midwestern city also has drawn attention in national publications such as the Washington Post and Governing.
Another part of Jones' operating style is her use of social media, sometimes to joust with critics.
Most notably, the mayor, a Democrat, and Missouri Attorney General Eric Schmitt, a Republican, have repeatedly clashed on Twitter.
Jones late last year accused Schmitt of "literally trying to kill us" with his efforts against coronavirus mask mandates. Schmitt, among other things, ripped Jones for waging "a war against police" with her policies.
"My personal Twitter (account) is a place for me to be my unapologetic self, and even when people disagree with me, I think they respect authenticity," Jones said. "I call it like I see it, and that's who I am."
Mike Jones, a top aide to ex-Mayor Clarence Harmon and former County Executive Charlie Dooley, said the influx of federal money and Rams settlement funds gives Jones an unusual opportunity.
"She will be the first mayor in my political lifetime that will not be broke and have the capital to invest" to reposition the city, said Jones, who isn't related to the mayor.
"Everyone else has had to tinker with the margins."
Originally posted at 3 p.m. Sunday, April 17.
Editor's note: This article has been updated to correct an error in a quote.